I'm No Guitar Hero (and other random musings on a Friday morning)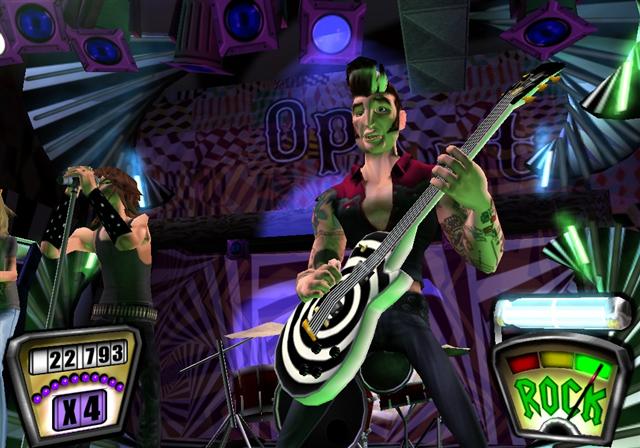 Just a few musical highlights from the past week:
Getting my fool butt kicked soundly and repeatedly on Guitar Hero by my ten-year-old son. Sure, I've been playing a REAL guitar for 26 years, but I just can't work these damn buttons! Incidentally, I was going to pick up the new 80's version, figuring it would have more of the music I grew up with rather than the 90s metal crap that dominates GHII -- but somehow the song selection is even worse. (Hey, at least the standard GHII has Matthew Sweet's "Girlfriend," a truly insightful pick.) Wish someone would hire me to assemble an indie rock Guitar Hero -- Built to Spill, Television, Yo La Tengo, Pavement, etc. Of course, I'd still get my ass kicked on that one, but at least I'd like the damn songs...
The Pixies' "Planet of Sound" coming up on the iPod Shuffle during my morning walk to the office. It's only about a 4-minute walk from the parking lot to the office, so I only get in about 1 1/2 songs each morning and each evening... but, I dunno, it's just something special when "Planet of Sound" makes it into rotation. Or "Debaser." Particularly "Debaser." Damn, why do I spend time rotating the 200 songs on the Shuffle when, really, I could just listen to "Planet of Sound" or "Debaser" every day?
Mid-70's Beach Boys. During that largely unheralded era between Smile and "Kokomo," the band actually had a fair amount of noteworthy (if sub-genius) music. Been listening to Carl & The Passions: So Tough and Holland in particular. Yes, I'm definitely a Brian Wilson guy, but Mike Love's "California Saga" is one of the catchiest things they ever recorded, tacky nature-loving lyrics be damned. I made a nifty mix of their '70-'77 output, and, in all honesty, I like it as much or even more than my mixes dedicated to their early 60's insane proliferation of surf sigles and their Pet Sounds/Smile-era artistic heyday.